Description
Swinging gates are the traditional kennel entrance. Our gates open wide to make it easier for you to gain access to the suite to clean them.
Our stainless steel, double locking mechanism auto-latches when you close the kennel gate, yet opens easily with one hand when you need to let a dog in or out of the suite. They are also ready to add a padlock to if desired.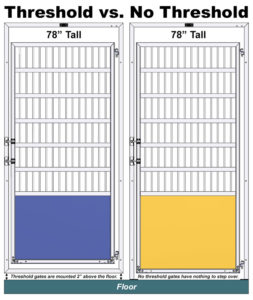 Swinging gates come standard with black, gray or tan powder coated frames. Frames can be upgraded to other colors or a clear anodized finish for an additional charge.
Contact one of our sales representatives for more information.